Posts Tagged discipleship
Over at the Acton Institute's PowerBlog, I offer some critiques on Kathryn Schulz's recent piece in New York Times Magazine on the modern age of self-help.
Schulz highlights a variety of approaches to introspection and identity-seeking, and although she briefly mentions the Christian "method" of submitting oneself to God first and foremost, she proceeds to casually shrug it off, using scientific non-consensus as her excuse, instead favoring a "promiscuity" in our approach-taking and hypothesis-testing:
Try something. Better still, try everything—throw all the options at the occluding wall of the self and see what sticks. Meditation, marathon training, fasting, freewriting, hiking the Pacific Crest Trail, speed dating, volunteering, moving to Auckland, redecorating the living room: As long as you steer clear of self-harm and felony, you might as well do anything you can to your inner and outer ecosystems that might induce a beneficial mutation.
As I go on to argue, Christians should be cautious of this type of universalism:
Christians mustn't give way to a life of random, impulsive decision-making, whether it's geared toward curing a personal addiction or ramping up something as innocent and well-meaning as helping those around us. Submitting to a smorgasbord of humanistic experimentation in our identity-seeking may yield "beneficial mutation" for some, but "beneficial" according to whom and at the cost of what? In the end, Schulz's proposed path of self-realization involves diminishing the mysteries of God-empowered transformation to an exotic menu option amid a buffet of Eat-Pray-Love self-indulgence.
Regardless of whether we're able to fully rationalize God's transformative effects over our deepest desires, attitudes, and decisions, in humbling ourselves before the Lord of Lords and asking what he would have us do in all of our endeavors, economic or otherwise, we can have confidence that he will follow through according to his will.
This doesn't mean the process is easy. Seasons of introspection and self-evaluation are not typically resolved with the single thump of a Bible or the first implant of that seed of self-denial. But that's certainly where we should begin. Living a life of whole-life discipleship requires earnest dedication and preparation, and a particular path for preparation exists—namely, submitting oneself to a real God with real purposes for real people with real needs. The marketplace of humanity gets much more interesting when the market information gets that good.
"Commit your way to the Lord. Trust in him, and he will act," writes the Psalmist. "Be still before the Lord and wait patiently for him…The steps of a man are established by the Lord, when he delights in his way."
Read the full post here.
In my critique of the Occupy Wall Street protests, I noted that what really needs to happen is what John Witherspoon once called a "return to duty" — an introspective moment that leads us to "hearken the rod" rather than disdain it, to return to individual moral uprightness, and to reject the seductive idol of material security.
The sentiment is pulled from a sermon Witherspoon delivered to Princeton in 1776, containing stern counsel for how to recover from cultural erosion and pull the weight that liberty demands. The solution, Witherspoon explains, requires much more of the individual than a secular, materialistic worldview can invigorate.
Granted, today's "occupiers" are propelled by a more serious, more pampered sense of entitlement than Witherspoon could have ever imagined. Yet this simply means our task is more difficult. (e.g. "Yes, I know you have air conditioning, a flat-screen TV, expensive fair-trade groceries, and a bottomless credit card to pay for it all, but someday you'll have to face the real world, hunker down, and…you know, actually persevere.")
Here's Witherspoon's diagnosis:
Both nations in general, and private persons, are apt to grow remiss and lax in a time of prosperity and seeming security; but when their earthly comforts are endangered or withdrawn, it lays them under a kind of necessity to seek for something better in their place. Men must have comfort from one quarter or another. When earthly things are in a pleasing and promising condition, too many are apt to find their rest, and be satisfied with them as their only portion. But when the vanity and passing nature of all created comfort is discovered, they are compelled to look for something more durable as well as valuable. What therefore, can be more to the praise of God, than that when a whole people have forgotten their resting place, when they have abused their privileges, and despised their mercies, they should by distress and suffering be made to hearken to the rod, and return to their duty?
Exceptions abound, but on the whole, this seems very close to what we're witnessing — a society that has grown "remiss and lax in a time of prosperity," and is finally being "compelled to look for something more durable as well as valuable."
Our workers grew up in a less globalized world, insulated from the rising competition of today's (rapidly) developing nations. Up until recently, we were privileged with a virtual monopoly on freedom, allowing it to spoil our attitudes and outlooks toward ourselves, our neighbors, and economics in general. Our kids went to schools with inflated tuition costs, all the while thinking they were guaranteed a $50,000-per-year job in post-colonial gender studies — a myth solidly affirmed by parents, school counselors, and political leaders, themselves beneficiaries of a post-war boom made possible (in part) by an otherwise war-ravaged economic stage.
The recent expansion of freedom and prosperity has been a good thing, to be sure, but it doesn't look so hot if you Read the rest of this entry »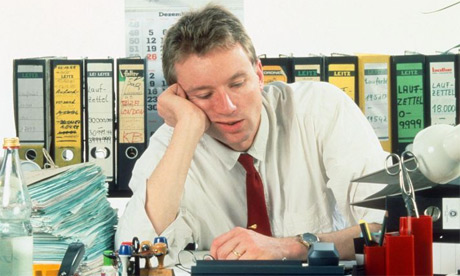 I have often argued that radical individualism — i.e. radical obedience to God — often translates into unradical earthly action: building a family, giving to others, befriending a stranger, starting a business, working at a factory, etc. Whether or not our obedience is "radical" can only be defined by the extent to which we are willing to deny our earthly sentiments for the divine.
This, of course, says nothing about what the divine is actually demanding.
Yet many seem to miss this basic point, believing that following God to the fullest should automatically translate into things like preaching to millions or giving away all our possessions to the poor (insert cherry-picked Biblical anecdotes here). The popularity of David Platt's recent book, for example, indicates that for many, radical obedience needs to translate into action that feels radical in some tangible, earthly way (going on a missions trip, capping one's income at $X, building a church without air conditioning, etc.).
In a recent article for Relevant Magazine, Andrew Byers does a nice job of countering such thinking, arguing that "radical can be dangerous" and "monotony can be its own mission":
Scripture calls us into radical service — but that does not allow others to eviscerate tedious, less "spiritually" glamorous tasks of their meaning in God's Kingdom. Scripture also calls us to embrace the mundane and ordinary as holy and beautiful: "… aspire to live quietly, and to mind your own affairs, and to work with your hands" (1 Thessalonians 4:11).
Many of us want to do something awesome, something epic. We tend to think that the more normal, the less "spiritual." So it is quite possible that our aspirations to be radical stem from dangerous ambitions to perform biography-worthy feats of global glory.
But radical discipleship is not adventure tourism.
Then, in a move that leads to some striking socio-economic parallels (unintended, to be sure — see here and here), Byers describes the real Christian pursuit as a bottom-up struggle, one filled with risk, relationship, faith, and Read the rest of this entry »